Goodbye dear friends.....

*** CLICK ON THE IMAGE ABOVE FOR ALL THE LATEST NEWS ON SERIES 2 ***
This is the most popular page on the whole site, you will no doubt have arrived here after searching for 'Green Wing' on Google Images.(as have 79 out of the last 100 visitors)
79%
of visitors to the site hit this page first!!!!
Click
here
for the main page of the blog!
I know that most of you do not stay very long and so did not find what you were looking for. If I can find out some more information on the new series I will update this entry.
**** START UPDATE ****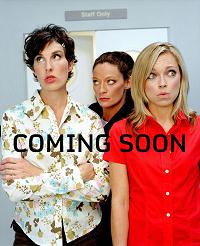 NEW SERIES OF GREEN WING STARTS FRIDAY 31st MARCH ON CHANNEL 4 AT 11PM

**** END UPDATE ****
true to my word I have updated this entry as soon as I heard.
p.s. please leave a comment to let me know what you are looking for, it would be interesting if nothing else! scroll down to the end of this entry to leave a comment, go on you know you want to:-)
James 8/3/06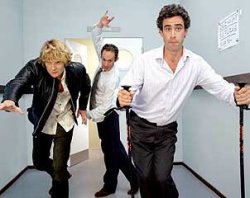 The offbeat comedy series ends its nine-week run, and fans will find nuggets to enjoy in this last episode, with its ridiculous, quite literal, cliffhanger ending.
So, where are we? Well, funny little Martin tries to make up for months of humiliation by getting his own back on the unctuous Dr Guy Secretan (Stephen Mangan). Unfortunately he uncovers some deadly awful information that means a night-time dash to Guy's flat.
Poor Caroline Todd (Tamsin Greig) continues her quest to find out bad things about Sheffield in her attempts to stop her beloved Mac (Julian Rhind-Tutt) from moving there. And Dr Secretan himself, a man very confident of his own allure, gets involved in a fateful bet that could have unforeseen and disastrous consequences.
Watch out for one final, spectacular visual gag involving the hapless Dr Alan Statham (Mark Heap). If this were a film, it alone would be worth the price of admission.
This has been a real Friday-night brightener for the past couple of months, so it will be a big shame to bid farewell to Green Wing, one of the year's best new comedies. But fans will be pleased to know that there will be a second series, which is tremendously good news.