September Fool!
Episode 5
Dr Statham enters politics – at least the manifesto will be grammatically correct. Caroline thinks her choice of lodger might have been a mistake, but finds she has to live with it. Mac's past catches up with him – luckily not literally, or he might meet his former self, which can be catastrophic, as we all know. Other catastrophic things include Martin becoming a pimp.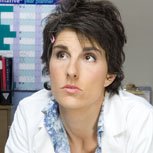 Dr Caroline Todd (Tamsin Greig)
Pathologically awkward, Caroline is the newest doctor at East Hampton Hospital Trust and had an "interesting" first year. She arrived homeless and stinking, spent her first night at Guy's house and the rest of the week quashing the sexual rumours he spread about her. She's since moved in with the hyper-anal Angela, and ended up snogging Guy, Martin, Mac and Sue after drinking too much ethanol punch at her housewarming. More than gaining respect from the staff, the one thing she desperately desires is the love of Dr Macartney.
"I tried giving up smoking but my lungs are sentimental and when I'm under pressure, they try to woo me"
"Apparently if you eat a lot of pineapple, it makes your sperm taste nicer and pubic topiary is the new pashmina"
"September Fool! Everyone's always on the look out in April so I like to do it seven months early, catch people off guard"
Tamsin Greig has played a variety of roles in theatre television and film. Her television credits include Love Soup by David Renwick for the BBC, Black Books, Doctor Who, When I'm 64, Happiness and People Like Us.
Film appearances include Miranda and Ready When You Are McGill. Tamsin has appeared in theatres across the UK playing varied roles from Mrs Havisham in Great Expectations, Helena in A Midsummer Night's Dream to Jacqueline in French Without Tears. She is currently rehearsing Beatrice in Much Ado About Nothing and Constance in King John for The Royal Shakespeare Company.