I've got to go to the vale… the vale of er pewter

OK so at last here it is the new series of green wing it is on tonight at 9pm on Chanel 4, you have been warned.
Episode 1
Who would have thought a trip to the seaside in a stolen ambulance would have led to this? Caroline has to come to terms with the devastating consequences, while Joanna has to come to terms with the fact that she accidentally slept with her son.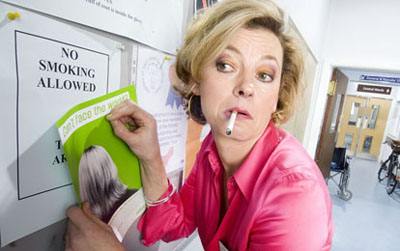 each week we shall profile one of the cast members.....today it's Dr Guillaume Valerie Secretan.....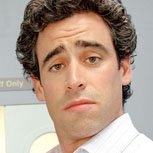 The self-appointed hospital lothario, nobody loves Guy more than himself. In his mind his Swiss charm and rugged good looks make him irresistible to all women, particularly Caroline, and he needs a spreadsheet of sexy nurses to keep track of his potential conquests. A terrifying public school education has left him vulnerable and scarred, which explains why he spends his time trying to prove he's better than Mac and bullying Martin relentlessly. He is the reigning "Guyball" world champion.
"That's how I lost my virginity, she had nice tits for a forty-five year old, I haven't seen her since though"
"Drink my pee, pull like me"
"I've got to go to the vale… the vale of er pewter"
"Long term? It's an airport car park. Monogamy? A nice dark sort of wood, sideboards. The C-word? 'unt – well, did I pass?"
Stephen Mangan completed two films last year: Annie Griffin's Festival and improvised film Confetti for BBC Films. Other film credits include An Hour in Paradise, while television appearances include Lucky Jim, The Armando Iannucci Shows, I'm Alan Partridge and Sword of Honour. Stephen has appeared in a number of stage productions, having recently finished performing The Magic Carpet at The Lyric in Hammersmith. Theatre credits also include his role in Billy Ellliot (as Dr Crane), Much Ado About Nothing, Twelfth Night and The People Are Friendly.